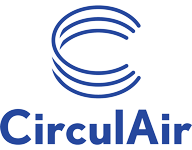 The most versatile, compact evaporator on the market.
The CirculAir regulates the temperature and humidity of your ambiances.
Compatible with Direct Expansion or Chilled Water. Hygienic, stainless-steel, easy cleaning and ultra compact.
A range of models available from 706 CFM to 2,295 CFM.
Single flow, 316L stainless-steel
Noise level: between 52.8 to 60 dB
Hung from ceiling
Weight: ranges from 53 to 289 lbs.
Design: Cylindrical, smooth stainless-steel tubes ep. 10/10e
Supply: Right or left
Cooling Coil: Chilled water or DX
Heating Coil: electric heating power
Speed variation: From 0 to 10 V
Via internal or remote potentiometer
By PLC 
Refer to technical notice below. 
Design: Total accessibility by unhooking the drain pan
Sanitation: Foam gun or high pressure hose
Blowing: 
Direct (by induction): blown towards ceiling for smooth and even distribution at low residual speeds
Option: directional deflector
Sanitary Design 

316L stainless steel construction
Ultra hygienic design

Easy Installation 

Compatible with direct expansion or chilled water
Direct air supply (without duct)
Short manufacturing times

A versatile Unit

Suitable for various markets 
Resistant to corrosive environments 

Its cylindrical shape eliminates dead zones 
Absence of fins eliminates retention of particles and bacteria
Smooth tubes reduce pressure drop and energy consumption
Tubes thickness makes them durable and mechanical resistance
316L stainless-steel is highly resistant to corrosion. Suitable for many applications, even very harsh environments.
Upwards blowing allows air stream to be evenly and smoothly diffused at a residual velocity, eliminates need for textile ducts.
This evaporator is appreciated in work rooms or cold rooms that store sensitive products.
The easy cleaning of this evaporator is suitable for hygienic, powdery and greasy environments or cooking rooms.
Suitable for different markets: cheese, dairy, salting, bread making, fish, tannery, pharmaceuticals, and more.
For pricing or additional information
International Inquiries (outside North America)
Jean-Pierre ROGER
Sales Services
Mobile : +33 6 32 00 47 09
Climinox head office and production site
ZA rue St Eloi – 61100 St Georges Des Groseillers
Tel : +33 2 33 62 29 50
Antoine PAGE
After sales service Technician
Mobile : +1 819-350-0769
Tel : +1 877-758-0313 poste 4344
Soteck head office
1171, rue Notre-Dame Ouest, bureau 200
Victoriaville (Qc) G6P 7L1
www.soteck.com
Kacey HEBERT
Sales Services
Mobile : +1 225-614-1385
Tel : +1 312-637-2192
DualTemp Clauger
9550 W 55th St Unit A,
McCook, IL 60525, United States
www.dualtempclauger.com