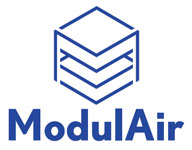 A scalable evaporator that adapts to your needs
The ModulAir regulates the temperature and humidity of your ambiance.
Single or dual-flow evaporators available based on need. 
Hygienic design, constructed in stainless-steel, these units are easy to clean and safe.
Units have a small footprint and can be installed on the wall, set on the floor or hung from the ceiling!
A wide range of models are available to meet any need: 1,471 CFM to 11,771 CFM
Ceiling
Set on a floor frame
Mounted on Wall
Design: Smooth, stainless-steel tubes
Supply: Left or right
Cooling Coil: up to 100kW/chilled water
Heating Coil: Hot water or electric heating
Design: Easy access via panels or access doors 
Cleaning: Foam gun + high-pressure hose
Option: Clean In Place (CIP) system 
Blowing: 
Direct (by induction): blown at an angle towards the ceiling for smooth, even distribution, no turbulence
Air discharge via textile ducts 
Supply air grills: tubular rings on fan grids for laminar flow and avoid turbulence
Easy upgrades for future growth    

Standard parts, sub-sets available off the shelf 
LEGO type design 
Short manufacturing & lead times

Hygienic & Resistant Design 

304L Stainless-steel 
Eliminates retention areas 
Accessible, fully cleanable with foam gun or CIP

A reliable, durable unit 

Resistant to aggressive environments
Ability to upgrade an existing unit by adding additional coils 
Maximum of 6 fans per unit 
For pricing or additional information
International Inquiries (outside North America)
Jean-Pierre ROGER
Sales Services
Mobile : +33 6 32 00 47 09
Climinox Headquarters & Manufacturing Site
ZA rue St Eloi – 61100 St Georges Des Groseillers
Tel : +33 2 33 62 29 50
Antoine PAGE
After sales service Technician
Mobile : +1 819-350-0769
Tel : +1 877-758-0313 poste 4344
Soteck Headquarters
1171, rue Notre-Dame Ouest, bureau 200
Victoriaville (Qc) G6P 7L1
www.soteck.com
Kacey HEBERT
Sales Services
Mobile : +1 225-614-1385
Tel : +1 312-637-2192
DualTemp Clauger
9550 W 55th St Unit A,
McCook, IL 60525, United States
www.dualtempclauger.com